26 Sep 2014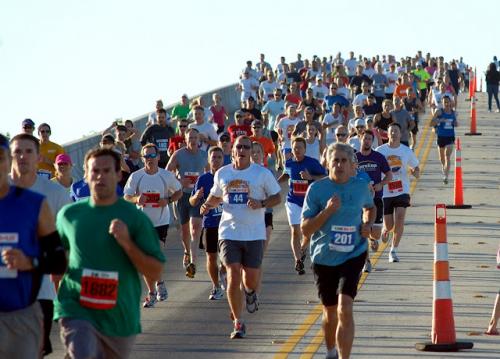 If you happen to be staying in a Charleston beach house right now, especially in one of our Isle of Palms luxury rentals, you may have noticed an unusually high number of people running on the IOP Connector. I happened to be driving over it last night and passed a couple dozen folks jogging their way across it.
That's because they are training for next weekend's big event. It's theIsle of Palms Connector Run and Walk for the Child - an annual 5K and 10K race that draws runners and walkers of all levels to the island.
The race is subtitled "...For the Prevention of Child Abuse & Healing those Affected in Charleston," and proceeds go toward advocacy programs for children in the area. It's done a lot of good over the years while also proving to be a fun event.
It takes place on Saturday, October 4th, with the race itself beginning at 8:00 a.m.   The start line is on Palm Boulevard near J. C. Long Boulevard, right next to our office for luxury beach house rentals SC. If you are taking part, you could literally jog from your luxury house on Isle of Palms to the start line, to get in a little warm-up in before the race!
For the 5K, runners or walkers go halfway over the Connector, then loop back. 10K-ers go all the way over to Mount Pleasant (near the entrance to Seaside Farms) before looping back.
Early registration gives you a bit of a break on the price. If you register by October 2nd, the fee is $35, and that includes a cool Sport-Tek T-shirt. You can register after that and even the day of (starting at 6:30 a.m.), but the cost is $40.
The race is organized by the City of Isle of Palms and the Town of Mount Pleasant as well as the Exchange Clubs of both towns. It has a slew of big sponsors including East Cooper Medical Center, Benefitfocus, Harris-Teeter, Try Sports, The Beach Company, Crews Subaru, and Waggoner Law Firm.
The post-race party has evolved into quite a bash. There is a complimentary beer garden for those 21 and over (bring ID), live music and awards as well as a special kids' entertainment area.
Note to those staying in one of our Isle of Palms vacation rentals - if you're coming to or leaving the Isle that morning, the IOP Connector will be closed to vehicular traffic, from about 7:00 a.m. until 11:30 a.m.   You will need to access or leave the island via Breach Inlet and Sullivan's Island.
If you are in one of our SC vacation rentals off the island, for example if you're in one of our Folly Beach rentals Charleston and want to run the race, you want to arrive early to find parking. There is paid parking available at the Isle of Palms County Park or along Ocean Boulevard. If you park along residential streets, remember tires must be 4 feet off the pavement or they will write you a ticket.
Here's the official website with all the info, including online registration:http://ioprun.com/
Staying in a beach house Charleston is a great way to experience the race. If you are interested in one of our rental homes South Carolina for that weekend, call soon and we'll try and fit you in. After all - EP has the best in beach house rentals Charleston SC.

All best,
Lowcountry Lisa
your Isle of Palms vacation blogger