24 Nov 2014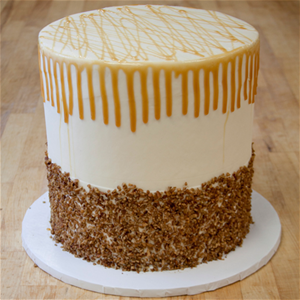 It's now upon us, the week when loved ones gather to offer thanks, and food often takes center stage.
In America we have this tendency to overdo things... witness: the food at state fairs. Hot Beef Sundae. Fried Beer. Mealworm-covered Caramel Apples. Fried Butter.  (Yes, that was actually served at the Montana State Fair).
You've probably heard of Turducken - a chicken, encased inside a duck, encased within a turkey. Then the whole thing is cooked up as the ultimate poultry feast.
Well, creative minds in America who have been busy (and highly caffeinated or amped up on something) have come up with the dessert equivalent. It's a mega-pie/cake extravaganza, billed as the "Turducken of Desserts."
Actually, the official name is the Pumpecanapple Piecake, and it comes from Three Brothers Bakery in Houston.  It weighs a whopping 23 pounds and fetches $175.
It also takes a machete to slice it. (So if your holiday family dynamics get a little out of whack by dessert time, just come out wielding the cutting utensil and you can pretty much call the shots).
It's actually three pies within three cakes, all stacked on top of each other.
So in other words, it's: 
A pumpkin pie baked inside a pumpkin spice cake, 
A pecan pie baked within a chocolate cake, and
An apple pie within an apple spice cake.
Alas, it's sold out until December 2nd. But anyway, here's a link:http://store.3brothersbakery.com/Pumpecapple-Piecake-SOLDOUT-THROUGH-DEC-2ND-P317.aspx

Lord willin,' you've already booked yourself and your loved ones into a Charleston beach house for the duration, be it a luxury house on Isle of Palms or a Folly Beach house Charleston.   While much of the country is grappling with mounting drifts of the white stuff, the Lowcountry is going to be blissfully free of it.
SC vacation rentals are a great bet any time of the year, but they are especially enticing when you leave home wrapped in winter woolens, only to emerge from the plane peeling off the layers.
Our collection of beach house rentals Charleston SC offer a great selection depending on your needs and budget. Isle of Palms luxury rentals are available in different occupancy levels and proximities to the beach, and most have gourmet kitchens ready for you to prep your holiday meals. Folly Beach rentals Charleston are available for a different island setting near Charleston.
As I wrote in a recent blog, Middleton Plantation is offering a Thanksgiving buffet on Thursday.
If you are preparing your own meal instead, here are a couple recipes from the chefs at Middleton Plantation:
Brined Turkey
(Brandon Buck, Middleton Place Executive Chef)

Pecan Bourbon & Apple Cider Turkey Brine
• ½ cup of pecan bourbon (alcohol cooked off)
• 1 gallon apple cider
• ¾ cup kosher salt
• 2 tbsp. black peppercorns
• 3 bay leaves
• ½ light brown sugar
• 2 sprigs of thyme
• 6 leaves of sage
For the roasting of the turkey
• ¼ lb. unsalted butter
• 4 cups chicken or turkey stock
• 3 cups mirepoix (2 parts diced onion, 1 part diced celery, 1 part dice carrot)

Begin by simmering your bourbon in a 6qt or larger stockpot until the alcohol has burned out of the base liquor. Next add your apple cider, and bay leaves bringing that to a simmer. Next add your ¾ cup of kosher salt and ½ cup of light brown sugar then stir until dissolved. Finish by adding your thyme, sage, and black peppercorns. Allow the mixture to cool by placing in an ice water bath, and then pour the brine completely over the turkey in large bags or a plastic container. Allow the turkey at least 6 hours, up to 12 hours, to be immersed in this brine. At the end of your time with the turkey in brine remove and pat dry with a clean paper towel. Finally rub with olive oil, season lightly with herbs, salt, and ground pepper and bake at 325 F in a roasting pan with 4 cups turkey or chicken stock , ¼ lb. unsalted butter, and your mirepoix. Baste every 15 minutes with this liquid until you reach an internal temperature of 165F. For a nice addition to your turkey if baking, brush with the Bourbon Sorghum glaze for the last 30 minutes of cooking once every 10 minutes
Bourbon Sorghum Glaze
• ¾ cup of bourbon
• ½ cup Sorghum Syrup
• ½ lb. unsalted butter
Combine all ingredients in a sauce pan and bring and heat until dissolved. Brush on your turkey towards the end of cooking to form a nice golden brown skin doing so in 10 minute intervals.

Apple Pie
(Courtney Simpson, Middleton Place Restaurant Pastry Chef)
Pie Dough
• 4 cups all purpose flour
• 1 tsp. salt
• 1 pound (4 sticks) butter, cold and cubed
• 1/2 cup - 1 cup ice cold water
Mix flour and salt in bowl of mixer. Slowly add butter to flour while mixer is on slow/medium speed. Mix until butter cubes are about pea sized. Slowly add water a little at a time until a dough ball forms. You may not use all the water. You are looking for a drier dough. Divide dough in half and wrap each half. Allow dough to chill and rest at least 20 minutes. Roll out each dough half to a circular shape. Line pie pan with one of the halves and allow dough to hang over the pans edge about an inch. Trim if needed. Save the other rolled out half for the top. Place dough in the refrigerator while you are preparing the filling to allow dough to firm up.
Apple Filling
• 4-6 apples, peeled
• 1/2 cup sugar
• 1/4 cup brown sugar
• 1-2 tsp. ground cinnamon
• pinch ground cloves
• 1/4 tsp. ground ginger
• 1 Tbsp. all purpose flour
Mix together sugars and spice in a separate bowl. Peel and cut apples. Sprinkle sugar mixture over apples and allow them to macerate. Once some sugar has resolved and the mixture has made some juice, add flour and mix. Place apple mixture in prepared pie pan and add butter pieces on around on top. Brush the edges of the crust with an egg wash. Place top pie crust on and pinch sides together. Finish the edges of the crust as you would like. Cut small vent holes on the top to allow steam to escape while baking. Egg wash the top and sprinkle with sugar in the raw (optional) and bake pie at 425 F for 20 minutes and then turn heat down to 375 F and allow to finish baking. Pie crust should be a golden brown and filling should be bubbling through vent holes. Allow pie to cool before serving.

It's a perfect time of the year to be in rental homes South Carolina. Exclusive Properties offers the best in luxury beach house rentals SC, especially Isle of Palms vacation rentals.
So give us a call when you are in the market for one… and remember to count your blessings, count them one by one.
All best,
Lowcountry Lisa
your Isle of Palms vacation blogger