10 Oct 2014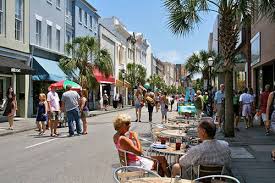 King Street is on a roll, having recently been named one of America's ten GREATEST STREETS.
The College of Urban Studies at The College of Charleston has compiled a list of the main things that contribute toward King being so great. According to their analysis, King Street:

1. is a human scaled street
2. invites pedestrians
3. exhibits natural smart growth
4. blends seamlessly into its surroundings
5. reminds us of our past, with an eye to the future
6. has energy
7. fosters an agglomeration of economies.
This coming Sunday is the next installment of Second Sunday on King, which is one of the best recurring local events around. It promises to be an especially good one, since the street itself has just been so duly honored. The City of Charleston will have a special booth and setup displaying the prestigious award.
Also, the Charleston Animal Society will be there selling their smokin' hot firefighter calendars… and keep an eye peeled for some of the firefighter/models to personally sign yours.   All proceeds go to Toby's Fund, a very worthy cause which helps injured and abused animals.
Also on tap - you may have heard about the Cronut, the food sensation that has usually jaded New Yorkers standing in line for hours out in the bad weather just to nab one. It's a cross between a croissant and a doughnut and was invented and trademarked by French baker/artiste Dominique Ansel.
Well, the good French bakers at Christophe here in Charleston have come up with their own croissant-doughnut hybrid, and they will be selling it on King Street this Sunday.   Word is they're giving Dominique a run for his money. Come taste for yourself what the hype is all about.
Here's a link to some more of what's going on this Sunday:http://susanlucas.typepad.com/secondsundayonkingstreet/
King Street is an easy drive from all our SC vacation rentals, whether you're staying in a luxury house on Isle of Palms or a Folly Beach house Charleston. If you are driving downtown from our Isle of Palms vacation rentals or any of our beach rentals Charleston, parking downtown can be a bit of a challenge.
One good option is to park in one of several parking garages run by the city. These allow you to park in the shade (unless you are on the top level). As a nice bonus, the city offers two hours of free parking in most of their garages during Second Sundays with a voucher. Here's a link to print a voucher:http://susanlucas.typepad.com/2nd%20Sunday%20Oct%20Parking.pdf(If you're in a Charleston beach house and don't have access to a printer, they usually have them available to pick up at Second Sunday information booths, while supplies last).
Switching gears a little bit...
Most emails that flood the inbox are pretty rapidly deleted. Some are worth a quick chuckle or an "aww" over the latest cute dog or kitten pic, or the ever-popular animals who don't normally like each other but are now bosom buddies (like the BLT -- the bear, lion and tiger one is especially inspiring). But the other day, an email came in that was chock full of interesting facts. I found myself learning some new nuggets from it and thought I'd pass along some of the wisdom.
Here are some:
Fascinating Facts

Glass takes one million years to decompose, which means it never wears out and can be recycled an infinite amount of times!
Gold is the only metal that doesn't rust, even if it's buried in the ground (or in the ocean) for thousands of years.
Your tongue is the only muscle in your body that is attached at only one end.
If you stop getting thirsty, you need to drink more water. When a human body is dehydrated, its thirst mechanism shuts off.
Zero is the only number that cannot be represented by Roman numerals.
Kites were used in the American Civil War to deliver letters and newspapers.
The song, "Auld Lang Syne," is sung at the stroke of midnight in almost every English-speaking country in the world to bring in the new year.
Drinking water after eating reduces the acid in your mouth by 61 percent.
Peanut oil is used for cooking in submarines because it doesn't smoke unless it's heated above 450F.
The roar that we hear when we place a seashell next to our ear is not the ocean, but rather the sound of blood surging through the veins in the ear.
Nine out of every 10 living things live in the ocean.
The banana cannot reproduce itself. It can be propagated only by the hand of man.
Airports at higher altitudes require a longer airstrip due to lower air density.
The University of Alaska spans four time zones.
The tooth is the only part of the human body that cannot heal itself.

It's a good day when you learn something new!
EP has a wide assortment of beach house rentals Charleston SC. Our portfolio of rental homes South Carolina consists primarily of Isle of Palms luxury rentals, the best on the Isle. Whenever you are searching the internet for luxury beach house rentals SC, check EP's website first, or give us a call and we'll steer you to the right one.
All best,
Lowcountry Lisa
your Isle of Palms vacation blogger