7 Nov 2014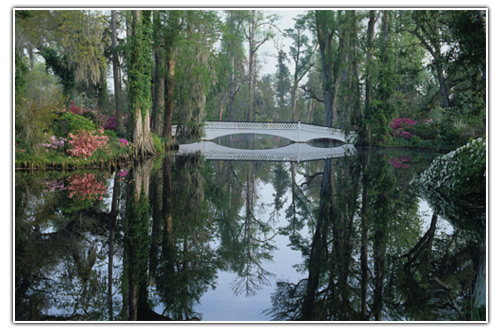 There are many things that draw people to the Charleston area…the culture, the natural beauty, the history… and all these come together beautifully at area plantations.
One of the best known and most beloved is Magnolia Plantation and Gardens.   This Lowcountry treasure has been around for 300 years and was named by Travel and Leisure Magazine as one of the 17 most beautiful gardens in America - the only one in South Carolina to make the list.
This weekend, they are offering free admission to residents of the tri-county, which includes Charleston, Berkeley and Dorchester Counties. It's good both Saturday and Sunday, November 8th and 9th, with ID showing your local address.
Chances are if you are here staying in one of our rental homes South Carolina, be it a luxury house on Isle of Palms or one of the many Folly Beach rentals Charleston, you are not a local resident.  But Magnolia is also offering a very good deal during the months of November and December. If you bring a non-perishable canned food item to be given to the Lowcountry Food Bank, you will get one free admission with a paid admission. That's buy-one-get-one-free, plus you are helping out a worthy cause.
Also, now through February, their world-famous camellias are in bloom. It's the oldest and largest collection of camellias in United States… and it was recently named an International Garden of Excellence by the International Camellia Society - one of only a handful of gardens in the world to be so honored.
So while much of the country is mired in winter weather and pelted with ice and snow, you can be strolling through one of the world's best collections of a gorgeous southern flowers - yet another reason to come to a Charleston beach house in the so-called "off-season."
Right now the Sasanqua varieties are in full bloom, and next up will be the Japonicas.
Also coming up on November 14th at 10:00 a.m. in the gardens, there will be a special workshop entitled, "Romantic Garden Design at Home," led by award-winning landscape architects and designers Hugh and Mary Palmer Dargan. It's free with admission to the gardens.
Magnolia Plantation is open 365 days of the year, and it's located at 3550 Ashley River Road in Charleston, a pleasant drive from all our luxury beach house rentals SC.
Here's their website with more about the gardens, the house, and their schedule of events: www.magnoliaplantation.com
Also coming up this weekend is what is fast becoming a must-do (and must see-and-be-seen-at) event… the Charleston Cup Steeplechase.
It takes place this Sunday, November 9th, at the Plantation at Stono Ferry. It's on Highway 162 in Hollywood (South Carolina, not California) and is a scenic drive from all our SC vacation rentals, either our Isle of Palms vacation rentals or a Folly Beach house Charleston.
This will be the 21st running of the event.   It's a mile-long track with five four-foot tall jumps, and it's part of the national circuit.  Gates open at 9:00 a.m., and paddock call happens around noon.   There will be both flat and steeplechase races, along with a vendor village and some serious Lowcountry tailgating.
Well-behaved, leashed dogs are welcome as well. Admission is $25 general, or $200 to $300 for reserved spaces, although those sell out fast. It's quite a popular event, and this year they're expecting 15,000 folks. Look for lots of big hats and bowties!
Here's the official site with all the details: www.charlestoncup.net
As always, remember to call EP when you are in the market for beach house rentals Charleston SC. Our collection of Isle of Palms luxury rentals is without peer.

All best,
Lowcountry Lisa
your Isle of Palms vacation blogger