14 Nov 2014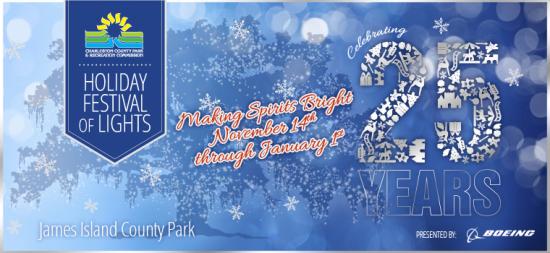 Well, now that jack-o-lanterns and goblins are a thing of the past, andorange and black décor is marked down 80%, it's time to think about red and green.   If you listen closely, you can hear the faint jingle of bells. Before you know it, the holidays will be here in full force.
One of the surest signs around here that Christmas is upon us, is the annual Holiday Festival of Lights.  It will be happening every evening from November 14th through New Year's Day.   FYI, there's a special sneak peek November 12th and 13th (more about that in a bit).
This year marks the 25th annual installment of the festival. What started out in 1990 with 18 light displays, now has over 750. We're talking more than two million colorful lights set in very creative, imaginative and animated displays.
Honestly, the first time I decided to go, I wasn't expecting much. But much to my surprise, I left feeling enchanted and filled with the holiday spirit. Now I look forward to it each year and hope to go when I can.
Coastal Living has ranked it one of the top ten holiday celebrations in America. The American Bus Association calls it one of the top 100 events in the nation. The Southeast Tourism Society says it's one of the top 20 events in the Southeast.
It's particularly fun because you can go with a whole bunch of friends and family. They charge admission by the carload, and you can take in most of the lights while driving through in your vehicle. So bring along everybody in your Charleston beach house, or at least those who you think might get the magic.
It's something that all ages can enjoy.   I have a very fond memory of Rusty taking me and Philip Simmons, the gifted blacksmith who made many of the beautiful gates and ironworks in Charleston, through the park to see the lights, along with our little Jack Russell, Theo. It was so cool and beautiful, and the four of us had a great time together, gazing out at the grand illuminations.
This is especially poignant to me since Philip and Theo have since passed.
If ever there were two sweet souls bound for heaven, it was those two. They were deeply connected somehow. But I digress.
In the Holiday Festival of Lights, it's nice to park and walk around as well, since there's a lot more to see and experience. There's a professionally crafted holiday-themed sand sculpture made from 50 tons of sand, as well as interactive light displays. You can drink hot chocolate and roast marshmallows in Santa's Village, ride the holiday train through the woods and lighted trails, enjoy goodies from Santa's Sweet Shoppe, find holiday gifts and ornaments, see handmade gingerbread houses, giant greeting cards made by local students, or ride a Victorian carousel.
As you can imagine, it takes a ton of work to pull it all together, by both staff and volunteers. Basically, there is someone working on it all year long - either taking it all down, maintaining the displays, creating new ones, or setting them all up. The actual installation -- stringing up two million lights - started approximately 45 days before opening night.
There will be a special mystery display unveiled for the first time this year.
It all takes place at James Island County Park, an easy drive from all our SC vacation rentals, either Isle of Palms luxury rentals or especially a Folly Beach house Charleston.
Hours are:
Sunday – Thursday evenings: 5:30 – 10:00 p.m.
Friday & Saturday evenings: 5:30 – 11:00 p.m.
Admission:
1 – 15 guests: $15 per vehicle
16 – 30 guests: $40 per vehicle
31+ guests: $100 per vehicle
Every Monday through Thursday evenings, you can get $5 off admission with the donation of a non-perishable food item or dog or cat food, which will be donated to the Lowcountry Food Bank. So thatt's just $10 for a vehicle of up to 15 people - plus you are helping out the community at the same time.
Here's the official website, with all the details: https://ccprc.com/1546/Holiday-Festival-of-Lights

There's an especially fun way to get an early sneak peek at the lights. It's the Holiday Festival of Lights Fun Run and Walk - a non-competitive two-mile evening run or walk through the colorful light displays. It will take place November 12th and 13th at 6:30 p.m. each night. Afterwards, you are encouraged to linger and take in all the sights and festivities.
Here's a link with all the info, including online registration: http://www.ccprc.com/1184/Holiday-Festival-of-Lights-Fun-Run-Walk (NOTE: You must register and obtain your ticket ahead of time – there will be no onsite registration or ticket sales. The cost is $12 until November 11th; it rises to $15 on November 12th. The run/walk starts promptly at 6:30, and the gate will be closed from 6:30 till 8:30. You are urged to get there early in order to park and take your place before the gates close for the run/walk).
For your GPS, James Island County Park is located at 871 Riverland Drive in Charleston, SC.
On the subject of the holidays - a Charleston beach house is a terrific place to spend the holidays with friends and family. It's a pretty good bet you won't have to deal with the hassles of snow and sleet if you spend Christmas in a luxury house on Isle of Palms. You'll have a wonderful kitchen to cook up holiday goodies, plenty of bedrooms for everyone to have sweet dreams where visions of sugarplums dance in their heads. Oh - and the beach is nearby, where kids can go and play with their new toys.
If you are interested in one of our beach rentals Charleston for the holidays, especially one of our Isle of Palms vacation rentals, call as soon as you can. Our luxury beach house rentals SC are getting all the more popular with each passing year.
So when you are interested in rental homes South Carolina - most especially, beach house rentals Charleston SC -   do call Exclusive Properties.
And may you see the light!
All best,
Lowcountry Lisa
your Isle of Palms vacation blogger