3 Oct 2014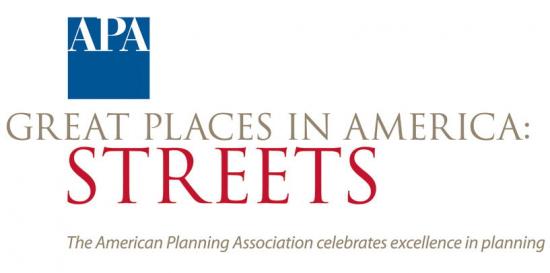 _____________________________________________
Let's see… what is Charleston known for?  Well, for one thing, the history.  And the culture. The natural beauty of ocean and marsh. The fine cuisine. The shopping.  And of course, the wonderful people.
There's a pretty neat dichotomy going on: the cool downtown peninsula is both historic and very vibrant & alive.
Charleston is no stranger to top ten lists, and one of the best places to be in Charleston has just made a really big one.
King Street has been named one of America's Great Streets, a top ten list honored by the American Planning Association – folks who know a thing or two about urban spaces.   It's part of their Great Places in America awards. They singled out the section of King from Broad to Spring Streets.
Others on the list include Broadway in New York City, Pennsylvania Avenue in Washington D.C., and Clematis Street in West Palm Beach.
King Street has so much to offer -- just about everything in that first paragraph, except maybe the ocean and marsh (and that's practically visible from it).
It wasn't always such a thriving street. The development of Charleston Place, which opened in 1986, sparked a renewal that has grown ever since and has rapidly spread to Upper King, north of Marion Square. King Street is hotter than ever.
Here's more on the story, including the other streets that made the cut:http://www.postandcourier.com/article/20141001/PC16/141009951
______________________________________________

Plus a couple quick things about the upcoming Isle of Palms Connector Run happening tomorrow morning...
It's taking place at a great time of the year, when temps are moderating and the humidity is dropping quite nicely.   This is an excellent time to stay in SC vacation rentals, especially our Isle of Palms luxury rentals (or Folly Beach house rentals Charleston SC), since the rates AND temps are lower, and the selection's higher.
The IOP Connector Run is known among the running community as"Halfway to the Bridge Run"… which, by the way, is set for March 28, 2015, when almost 40,000 people are expected to participate (actually, it will be capped at 38,400). Understandably it's one of the biggest weekends for beach rentals Charleston. If you are interested in coming here for the Cooper River Bridge Run and want to stay in a Charleston beach house, either a luxury house on Isle of Palms or a Folly Beach house Charleston, it's not too early to call. The sooner you call, the more likely you are to get your pick of our luxury beach house rentals SC.
But back to the IOP Connector Run/Walk for the Child - 100% of the proceeds go to help children in trouble.
Remember, the Connector will be closed in the morning starting at 7:00 a.m. and lasting till everyone's done… officially it may be as late as 11:30 a.m., but more likely it'll be about 9:30ish. So if you're leaving one of our Isle of Palms vacation rentals in the morning, you'll need to head off the island over Breach Inlet onto Sullivan's Island. Interesting note - this is the only time of the year when the IOP Connector is closed on purpose (to vehicles).
And remember to call EP when you're looking for the finest in rental homes South Carolina in the Lowcountry.
All best,
Lowcountry Lisa
your Isle of Palms vacation blogger