23 Dec 2014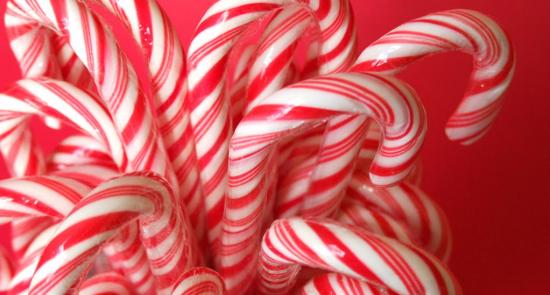 It's beginning to look a lot like Christmas
Ev'rywhere you go;
Take a look in the five-and-ten, glistening once again
With candy canes and silver lanes aglow.
There is probably no flavor that says Christmas more than peppermint. It's the one time of year when candy canes appear... and it's a bonus to have decorations you can also eat.
If you're spending the holidays in one of our SC vacation rentals, whether it's a luxury house on Isle of Palms or a Folly Beach house Charleston, it's nice to do a little holiday baking.   After all, one of the features of our luxury beach house rentals SC is gourmet kitchens.
Then again, there's something to be said for simple (and time-saving) recipes, especially around the holidays.   That way the kitchen of your Charleston beach house will smell good as you turn out homemade treats but won't be a mess afterwards.
Well, the good folks at target.com have come up with some yummy and very easy recipes made with only five or fewer ingredients, one of which is crushed candy canes.
Candy Cane Ice Cream Pie
Ingredients:
• One 9-inch pre-made chocolate cookie pie crust
• 1/2 cup hot fudge sauce, slightly warmed so it's spreadable
• 2 cups chocolate ice cream, softened
• 1 cup crushed candy canes, divided
• 2 cups vanilla ice cream, softened
Directions:
Spread hot fudge sauce onto bottom of pie crust. Then spread chocolate ice cream on top of hot fudge sauce. Place in freezer for 20 minutes.
Remove from freezer and top with 1/2 cup of crushed candy canes, then top with a layer of vanilla ice cream.
Freeze for at least 4 hours. You can make it up to 2 days ahead of time.
When ready to serve, garnish top with remaining half cup of crushed candy canes.
*    *    *    *    *    *    *    *    *
Candy Cane Sugar Cookie Blossoms
Ingredients:
• 1 package refrigerated sugar cookie dough (should make about 24 cookies)
• 4 candy canes, finely crushed
• 24 Hershey's kisses
Directions:
Preheat oven, slice and bake cookies according to the directions on package.
Remove from oven, let cool for 2 minutes, then sprinkle crushed candy canes evenly over the tops of the cookies while they are still warm. Lightly press chocolate kiss in the middle of the cookie.
Let cool on pan for 5 minutes, then place on cooling rack.
*    *    *    *    *    *    *    *    * 
White Chocolate Peppermint Popcorn Mix
Ingredients:
• 6 candy canes
• 12 to 13 cups of popped & salted popcorn
• 2 cups mini vanilla wafers (can substitute with pretzels)
• 16 ounces of white chocolate (either melts or wafers, or one package of Candiquick)
Directions:
Using a food processor, grind candy canes into a powder. Go ahead and leave in a few bigger bits for texture and color.
Add the white chocolate to a microwave-safe measuring cup and microwave for 45 seconds. Stir. Continue microwaving in 30-second intervals then stirring until chocolate is smooth and completely melted.
Pour the melted white chocolate over the popcorn and vanilla wafers. Stir until completely coated, then sprinkle with 1/2 cup of crushed candy canes. Mix again.
Spread the popcorn on a wax paper-lined baking sheet and let the chocolate firm up. Store in a sealed tin for up to 3 days.
Tip: For extra decadence, drizzle dark chocolate over the top once it's set.
Here's a link with the complete recipes and photos of how it will all turn out: http://www.target.com/r/festive-fabulous-5-ingredient-candy-cane-treats-article
A quick reminder --- this weekend (both Saturday and Sunday from 9:00 a.m. – 4:00 p.m.) is the last installment of the special holiday farmers market downtown.  It takes place in Marion Square at the corner of Calhoun and King Streets - an easy drive from all our rental homes South Carolina, be they Isle of Palms vacation rentals or Folly Beach rentals Charleston.
After Sunday's market is over, people of all faiths are invited to stay for the tenth annual Chanukah in the Square celebration.   There will be festive and free food, live music and dancing, the lighting of the menorah and activities for all ages. It goes on from 4:00 till 6:00 and there's no charge.
So remember, when you are doing your planning for a trip to the Lowcountry, call EP for the best in beach house rentals Charleston SC. Our Isle of Palms luxury rentals fill up fast, so be sure to plan as far ahead as possible for the greatest selection.
All best,
Lowcountry Lisa
your Isle of Palms vacation blogger