31 Oct 2014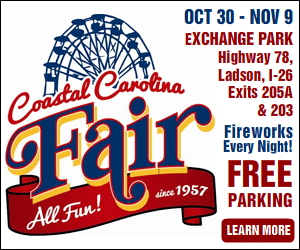 Talk about a long-standing Lowcountry tradition… it's time again for the 58th annual (!) Coastal Carolina Fair.  It's a pretty big deal around these parts, and 250,000 are expected to attend over the course of its run.
Who knows - maybe you could have your own "The Notebook" Noah-meets-Allie moment!
A dozen big musical acts will be performing, including two artists from season 4 of The Voice. All concerts are at the Lakefront Stage, and admission is free with entrance to the fair.
Performers include: Danielle Bradbery, Big SMO, The Swon Brothers, McClain, including China Ann McClain, Hotel California (a Salute to the Eagles), The Willis Clan, Colt Ford, Big Daddy Weave and the Beautiful Offerings Tour, The Embers, Band of Oz, and The Guess Who (Eddie Money performed last night).
As for things to see and do, you have a veritable overchoice:
Wolves of the World


American BullRiders Tour


African Acrobats


Carolina Dancers


Sweetgrass Revival


Mark Yuzuick, Hypnotist


Talent Search


Fashion Shows


Coastal Carolina Fair Pageants in several age divisions


Creative, Fine Arts, Photography and Youth Arts Shows


Flower Show


LEARN Horse Rescue Show


Petting Zoo


Countless Vendors



Numerous 4-H Competitions and Events



…and of course the Midway Rides and Kiddieland Rides! There are more than 65 carnival rides this year.
Last but not least, there will be the requisite bad-for-you deep-fried fair food. The buzz is on about this year's hot item…. Deep-Fried Barbecue-on-a-Stick.   Apparently the folks making it have come here from Raleigh's fair, where it was a giant hit in the other Carolina. According to its maker, Derek Porter of State Fair Foods, "It's pulled pork, dipped in hush-puppy batter and deep-fried."  Here's a link to the Post & Courier's resident foodie, Hanna Raskin's, take on it:http://www.postandcourier.com/article/20141029/PC0301/141029361
The Coastal Carolina Fair is located at the Exchange Park in Ladson, a pretty convenient drive from all our SC vacation rentals, both Isle of Palms vacation rentals and Folly Beach house rentals Charleston SC. For your GPS, it's at 9850 U.S. Highway 78, Ladson. From a Folly Beach house Charleston, just head over to the peninsula and catch I-26, then head up to the Ladson exit. From a luxury house on Isle of Palms, the easiest would be to head over the Connector to Mount Pleasant, get on I-526 till you reach I-26, then head north (well, technically west, I-26 West) till you reach the Ladson exit.
Here's the official website with all the scoop, including ticket prices, hours, schedules, and parking info: http://www.coastalcarolinafair.org/

Oh, by the way, Happy Halloween!   If you're choosing to spend it in a Charleston beach house, especially one of our Isle of Palms luxury rentals, keep an eye peeled for those little trick-or-treaters - though many of them head to the IOP Rec Center for the island's Halloween Carnival.

If you are working on a last minute scary costume, here's a recipe for:
Fake Blood
Light corn syrup
A dash of liquid castile soap (to make cleanup easier)
Some red food coloring
For darker more realistic blood, add in a little blue food coloring or some chocolate syrup.
Or for a happier costume, here's one for: 
Fairy Glitter
Aloe Vera Gel
Fine Glitter
Mix well together and spread on your skin. Or, you can use mineral makeup or L'oreal instant bronzer (for a tan fairy).
Here's a link for more costume makeup recipes, including one for edible goop (for fake wounds, warts, etc.): http://www.thesmartmama.com/non-toxic-homemade-halloween-makeup/

In the spirit of keeping our planet around for a while, here are six tips for a green Halloween: http://green.harvard.edu/tools-resources/green-tip/6-tips-greener-halloween

So Happy Halloween… stay safe, and may you have more treats than tricks come your way.  And when you are looking for rental homes South Carolina - namely beach rentals Charleston - call EP. Our portfolio has the best in luxury beach house rentals SC.

All best,
Lowcountry Lisa
your Isle of Palms vacation blogger
POST SCRIPT  -  Remember to FALL  BACK  ---- set your clocks BACK one hour Saturday night (or rather, 2:00 a.m. Sunday morning), November 2nd.  Yay, an extra hour of sleep or beach time!