12/31/2023

to

01/01/2024

Celebrate the start of 2024!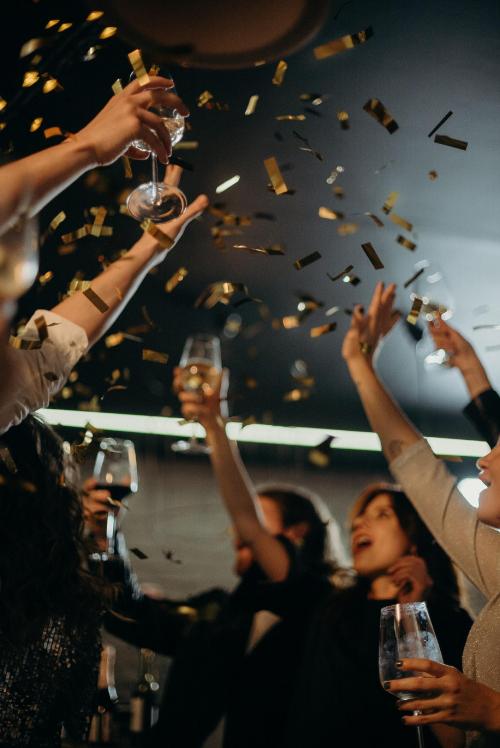 Charleston traditionally has no shortage of ways to ring in the New Year.  Many restaurants, breweries and night spots offer special menus and champagne toasts.  Best bet is to check their websites or social media for the latest. 
Some popular spots with special soirees for NYE 2022/23 included Forte Jazz Lounge, Republic, Uptown Social, Bourbon 'N Bubbles, Ritual, Vintage Lounge, Lenoir, Bay Street Biergarten, Share House, Emeline's Roarin' 20's party, Eli's Table's NYE Speakeasy, the Rice Mill, the Alley, Prohibition, Maya, XO Lounge's Black Tie Masquerade Party, NYE party aboard the yacht Carolina Girl, Red's Ice House/Tavern & Table on Shem Creek, the Windjammer on IOP, and the NYE Furball Totally Pawsome 80's Prom on Daniel Island benifitting Berkeley County's animal shelter. 
The SC Aquarium hosted a very special New Year's Eve evening of its Aquarium Aglow.  The family-friendly event lasted from 5:30 - 8:30 pm, with a DJ spinning party music, plus face painting and a whole lotta wholesome fun, including a "ball drop before bedtime."  Cute!
Charleston Place hosted a special Veuve Cliquot Midnight Garden Gala starting at 7:30.  The Palmetto Cafe will be transformed into a festive fantasyland with live swing music, ice bars, caviar stations, and chilled seafood displays.  
For a posh night, check out the all-inclusive, all-VIP, formallly attired party at Memminger's Festival Hall downtown.  December 31, 2022 was the 9th annual Charleston Wonderland NYE.   Included are a red carpet experience, specialty photo booths, premium bar, cirque performances, live bands and DJs, variety acts, Charleston's largest balloon drop, champagne bar, cigar bar and a silent disco.  Charleston Wonderland lasts from 8:30 p.m. till 1:00 a.m.
Speaking of wonders, you might also consider A Masquerade of Wonders at The Wonderer Charleston.  It looked to be quite the fanciful affair  -  21 and over  -  with three stages of music, indoor and outdoor areas, aerialists and acrobats, immersive light shows, 3D visual mapping and more.  Tickets range from $125 to $1,750, and you're encouraged to "dress to impress, with masks."
FREE FUN...
Folly Flip Flop Drop
Folly Beach hosts its own unique version of the Times Square Ball Drop.  Instead of a big mirror ball, they drop a pair of giant flip flops from the top of the Tides Hotel.  After all, flip flops are the (un)official footwear of the beach.
The Folly Flip Flop Drop party starts around 9:30 or 10:00 p.m. when they close off Center Street.  The celebration lasts till about 12:30 a.m., with the drop itself happening just before midnight.  That's followed by fireworks over the beach.  Folly's bars and restaurants will have plenty of live bands playing, plus food and drinks specials galore.  It's a festive way to flip the calendar.
NOTE: Details for 2023 haven't been set yet.   Check back later for more info.