(843) 884 - 8517
07/23/2022
Get Directions
Come celebrate an iconic symbol of Lowcountry culture: the sweetgrass basket.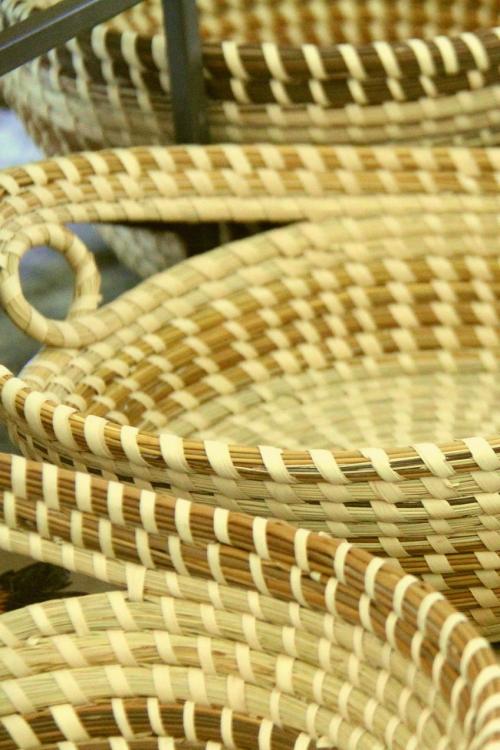 Sweetgrass basket weaving is a beloved artisan tradition that goes back centuries and can be traced to West Africa.  Enslaved Africans brought the skill with them and passed it down from generation to generation. 
Thanks to their artistry and faithfulness in maintaining and sharing the tradition, it thrives today.  A sweetgrass basket is perhaps the ultimate souvenir to bring back from your stay here.  In fact, people who visited decades ago often pass them down as cherished family heirlooms. 
In 2006, SC Governor Jim Hodges declared that sweetgrass basket making is South Carolina's Official Art/Craft.  In fact, the South Carolina Department of Transportation officially designated a large part of Highway 17 in Mount Pleasant as the Sweetgrass Basket Makers Highway.
It's deeply rooted in the Gullah-Geechee heritage of the Sea Islands.  Gullah-Geechee is the rich culture of the descendants of enslaved Africans in the Lowcountry, especially the Sea Islands of the Carolinas, Georgia and Florida.  It's characterized by certain traits: a distinctive language (an English-based creole with a lot of African influence); rice-based cuisine; unique music; and artisanal traditions like the weaving of baskets from sweetgrass which is native to the Lowcountry.   Generally Gullah refers to the culture in the Carolinas, while Geechee refers to Georgia and Florida.
Where to find sweetgrass baskets?
To purchase a sweetgrass basket, you can go to one of the many roadside stands that line Highway17 North, just over the IOP Connector.  You can also find a great selection at the Historic Charleston City Market downtown.  
Better yet, you can check out a festival dedicated to the art of sweetgrass.
The 18th annual Sweetgrass Cultural Arts Festival will take place at Mount Pleasant Memorial Waterfront Park, under the Ravenel Bridge and overlooking Charleston Harbor.  The Southeastern Tourism Society has designated it a top-20 event. 
You can watch different basketmakers create their masterpieces.  Come see "the most extensive showcase of sweetgrass baskets in the Lowcountry" with about three dozen different basket weavers, artists and craftspeople.  There will be plenty of interesting exhibits, demos, live music, dance, storytelling, Gullah food options, and lots of fun activities for kids. 
Admission to the festival is free, and it's very family-friendly. 
By the way, Memorial Waterfront Park also has a dedicated sweetgrass pavilion where you can learn more about the baskets and purchase one, all year long.  
The park is located at 99 Harry Hallman Jr. Boulevard in Mount Pleasant.  The 2022 date of July 23rd is tentative; stay tuned for exact date closer to the event.