(843) 886-8294
08/10/2023

to

11/09/2023

Walk on the beach and learn along the way.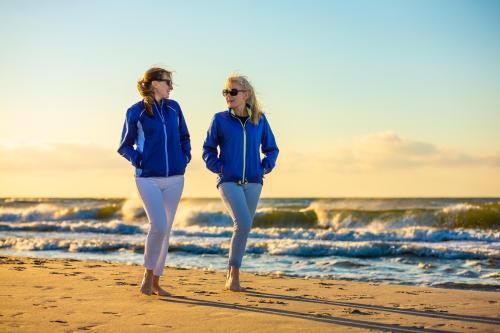 Yet another fun, new beach activity sponsored by the nice folks at the IOP Recreation Department.... and it's right nearby our Isle of Palms vacation rentals!
It's a social walk along the ocean, as ocean life experts share educational tid-bits.
Here's how new Recreation Director Karrie Ferrell describes it: "Salt air, soothing waves, sunshine, and friends!  What a wonderful way to get moving in the morning and prepare for the day. The Recreation Department is so excited to offer this no cost program for all. As we stroll along our beautiful Isle of Palms beach, the instructor will provide" information about the sea life we encounter on the journey.
The Serenity Sea Stroll & Learn is happening the second Thursday morning of the month at 7:30 a.m., right on the beach overlooking the Atlantic Ocean.  They started out just offering it in July and August, but it's proven so popular, they've added dates through November. 
Here are the specifics:
7:30 a.m. the first Thursday in July through November (July 13th, August 10th, September 14th, October 12th, and November 9th);
July's program - loggerhead turtles, led by Island Turtle Team leader Mary Pringle;
August's program - dolphins, led by wildlife expert and guide Abbi Cochran;
September's program - reptiles;
October's program - birds;
November's program - Next to the Sea;
Meet at the beach at the 25th Avenue beach access;
Strolls are open to both residents and visitors alike and for all fitness levels;
It lasts for approximately one hour.
Move at your own pace;
Rain dates are one day later (September 15, October 13, November 10);
It's absolutely free!
This program folllows on the heels of  -  and is similar in format to  -  the Serenity Sea Stroll & Stretch, which took place each Thursday in May.   Those were led by a City of IOP Rec Dept. Instructor/Trainer.  They lasted for one hour  -  a 45 minute walk, followed by a 15 minute "Oh Happy Day" stretch to jumpstart your journey toward total body wellness.