(843) 884-4371
10/01/2022

to

10/31/2022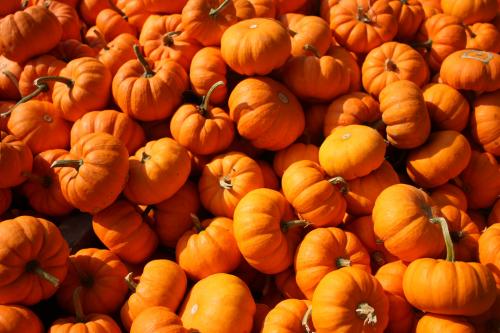 Pumpkins make ideal porch décor for the month of October and beyond.  They can instantly transform a mantle or tabletop into a festive scene, or form the basis of delicious goodies like pies, muffins, and pumpkin bread. 
The Lowcountry has plenty of places to pick the perfect pumpkin.  Following are two great options  -  one a beloved farm, one a nearby church with proceeds going to very worthy causes. 
Boone Hall Pumpkin Patch
Boone Hall Plantation in Mount Pleasant is one of the most visited locations in the Charleston area.  It's also a working farm, producing many delicious crops it sells to the public at the Boone Hall Farms Roadside Produce Stand.  They sponsor u-pick areas for strawberries in late spring, along with a festival to go with it.
Well, October means pumpkin time at Boone Hall, and the opening of the Boone Hall Pumpkin Patch.  2022 will mark its 26th year.
The Pumpkin Patch experience is a festival/celebration of all things fall.  Admission is $12, with children one and under free.  First, there's the Family-Friendly Monster Hayride.  Hop on the tractor-pulled hayride through an extensive haunted and decorated trail, with several themed displays along the way.   After that, you're invited to walk your way through the popular eight-acre corn maze.  There's the All-American Petting Zoo, attractions and entertainment.
Then, pick out your favorite pumpkin from a huge display near the produce stand.  There will be several great photo ops for your family, along with fun festival food for sale.
Boone Hall Pumpkin Patch operates from 10:00 a.m. till 6:00 p.m. Fridays and Saturdays, and noon till 6:00 p.m. Sundays every weekend through the end of October.  It's located at 2434 N. Highway 17 in Mount Pleasant.  Call (843) 884-4371 for more information.
Hibben United Methodist Church's Pumpkin Patch
Hibben Methodist, located at 690 Coleman Boulevard in Mount Pleasant, is known as one of the best places around to get your pumpkin.  Their orange-covered parking lot has been a Lowcountry tradition ever since 2001. 
Purchasing your pumpkin here has added benefits.  Their pumpkins are raised on Navajo land in New Mexico, then harvested by Native Americans.  Approximately 60% of proceeds are returned back to the farmers, who supply the pumpkins on a consignment basis. 
The remaining proceeds go to some of the very worthy causes which the church supports, including Water Mission and Windwood Farm.  Hibben also operates a much-needed warming shelter for the homeless during cold nights in winter. 
Another bonus to buying at Hibben  -  it's open seven days a week.  Hours are Monday through Friday from 11:00 – 7:00, Saturdays from 10:00 – 7:00, and Sundays from noon – 7:00, all through the month of October.  Call (843) 884-9761 for details.