(843) 884 - 8517
12/10/2023
There's something especially festive about a night parade, especially when lots of holiday lights are involved.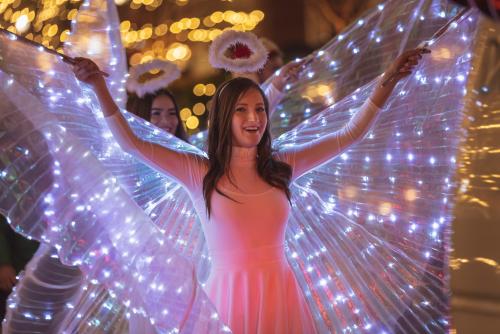 Mount Pleasant has a terrific night parade, and it's been going on for a quarter of a century. 
2023 will see the 28th incarnation of the Mount Pleasant Christmas Light Parade and Tree Lighting.
It'll kick off at Moultrie Middle School (645 Coleman Boulevard) at 5:30 p.m. with the lighting of the big tree and fireworks.  Then the parade itself will follow at around 5:45, where Coleman meets Live Oak Drive.  The parade route travels south down Coleman toward the Ravenel Bridge, finishing at the intersection of Patriots Point Road. 
Past parades have seen more than 100 groups participating, including lighted floats, marching bands, antique cars, Santa riding on a fire engine, and more.
Pro tip: locals start lining up their chairs early for a good spot along the parade route.
Please note the Coleman Boulevard Road Closure Schedule prior to the parade:
Whilden St. to Pherigo St. closes at 4:00 p.m. for the lineup
Whilden St. to Patriots Point Rd. closes at 5:00 p.m.
Ravenel Bridge off-ramp onto Coleman Blvd. closes at 5:00 (all traffic diverted to Highway 17)
Patriots Point Rd. from Coleman Blvd. to Harry Hallman Blvd. closes at 5:00 (all Patriots Point and hotel/golf course traffic will divert onto Harry Hallman)
Date for 2023 is tentative; check back closer to the parade for exact schedule.