(843) 884-4371
03/29/2024

to

04/06/2024

Get Directions

It's the annual spring celebration of all things strawberry, just over the Isle of Palms Connector in Mount Pleasant.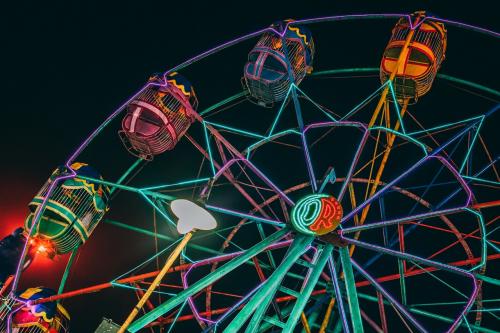 The Strawberry Festival features fresh-from-the-field deliciousness and family-friendly activities, put on by the good folks at Boone Hall Plantation & Gardens.  
It started in 1997 and has grown into what is now one of South Carolina's largest spring festivals. 
Each year Boone Hall, a working farm, plants a dozen or so acres with 135,000 strawberry plants.  They also host a Family Festival full of fun outdoor activities, spread out over 20 acres. 
Check out the lineup:
NEW IN 2023: Rock-N-Circus  -  with pyrotechnics, 65-ft free falling high dive, and more death defying stunts set to rockin' music;
Acrobatic dogs of TV's "K-9's In Flight;"
All American Petting Zoo, and pony rides;
Pig races;
Live music;
Giant inflatables;
Largest jump pillows in the state of South Carolina;
A three-story slide tower;
Interactive games by SCDA, and lots of vendors;
Playground fun, costumed characters;
Two strawberry pie-eating contests;
The Miss Berry Princess Contest for the girls;
The Mr. John Deere Contest for the boys;
Plenty of carnival rides in three categories – Thrill Rides, Family Rides, and Kiddie Land;
Rides include the Carousel and Giant Wheel, plus Thrill Rides  -  Vertigo Swing Tower, SCAT II, Hang Glider, Zero Gravity and Full Tilt; Family Rides  -  Expo Wheel, Merry Go Round, Scooter (Bumper Cars), Musical Chairs, Spinner, Monkey Maze; and Kiddie Land  -  Willie the Whale, Pirate Ships, Kiddie Boats, Wacky Shack and Fun Slide;
Tractor rides to the Strawberry U-pick Fields.
New in 2022: Lew-E's Comedy Circus, the Magic Of John Tudor,

Doc Magic, 

and creative balloon art.
You can pick your own berries at the Strawberry U-Pick Fields Friday through Sunday during the festival and bring them back as a tasty souvenir of your day ($2.79/lb plus a $2 container fee).  Admission to the festival itself is $15 for ages 12 and up, $10 for ages 3-11.  Children 2 and under admitted free with an accompanying adult.  Festival ride tickets are sold separately.  Parking is free.
To get to the Strawberry Festival, just cross the IOP Connector into Mount Pleasant, then take 17 North.  It's up a short ways on your left, at 2434 N. Hwy. 17.  (Note: for the Strawberry Festival you'll enter from Highway 17, not the main entrance to Boone Hall Plantation, which is located on Long Point Road.)
NOTE: Dates and details for 2024 are tentative.  Please check back closer to the event for more info.