(704) 517-4941
06/03/2023

to

08/26/2023

Get Directions

A wonderful way to help feed the needy after your stay in a vacation rental home.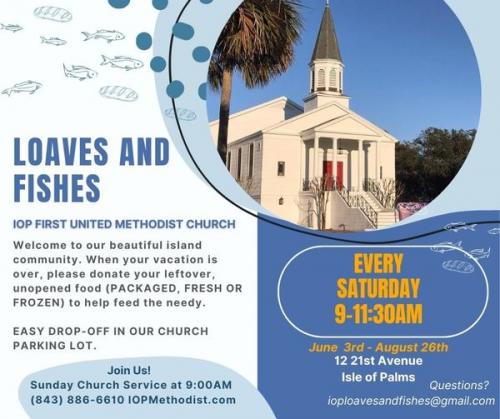 Loaves and Fishes is an easy, kind way to give to those in need in the Lowcountry.
Chances are, when you come to visit for the week, you stock up on a whole lot of groceries.  After all, our Isle of Palms beach rentals have huge gourmet kitchens and plenty of room to cook and feed your crew.
You may find that at the end of the week, you have excess food that is unopened and unused.  Here's where Loaves and Fishes comes in.
Loaves and Fishes is a neat program that is based on the Biblical story of Jesus miraculously feeding the masses (5,000+ people) with just five loaves of bread and a couple fish.  The Isle of Palms First United Methodist Church took the idea and ran with it, sponsoring a charity effort every summer for the past several years. 
Every Saturday morning during the summer, IOP Methodist is accepting any extra fresh or frozen food (unopened and unused) you might have left over from your vacation time on the island.  They then sort and donate it to East Cooper Community Outreach.  ECCO provides food and basic life supplies to those in need.
Here are the details:
Every Saturday morning in the summer;
June 3rd through August 26th;
Drop off anytime between 9:00 a.m. – 11:30 a.m.;
Convenient drop off area in the church parking lot;
IOP Methodist is located in the dog leg of Palm Boulevard at 12 21st Avenue on the Isle of Palms.
Thank you!  The local community really appreciates your kindness.