(843) 886-8294
10/05/2024
Run or walk the IOP Connector for a good cause, on the first Saturday in October.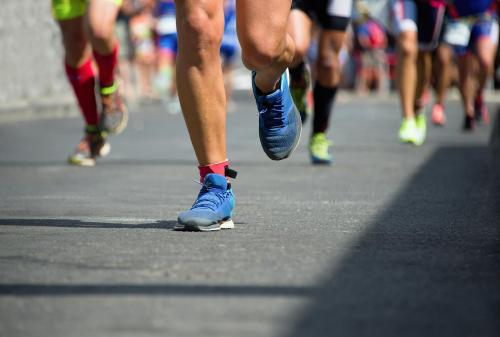 It's a local favorite that's been around for over three decades now.  It's the IOP Connector Run  -  officially known as "The Isle of Palms Run and Walk for the Child.... a 5K & 10K Charity Race to Raise Money for the Healing and Prevention of Child Abuse in Charleston, SC." 
Runners and walkers of all levels are welcome to take part.  Unlike many area runs, strollers are welcome.  Proceeds go toward several children's advocacy programs in the Lowcountry.
Organizers have described the IOP Connector Run this way:
"This Run/Walk is the most scenic on the East Coast, providing panoramic early morning views of the Intracoastal Waterway as you walk and run from the Isle of Palms over the marsh towards Mount Pleasant.
Enjoy the sights and sounds of the sunrise, and a wide variety of coastal birds and passing boats with thousands of other walkers and runners as well as a fabulous After Party with fun & games, kids' activities, snacks, beer garden, and Live Music.  All of this while helping the Exchange Club of Isle of Palms raise money for the prevention of child abuse!"
The race begins at 8:00 a.m. Saturday morning. 
The start/finsh line is on Ocean Boulevard near the Windjammer (not far from Exclusive Properties' office). 
5K runners or walkers go halfway over the Connector, then loop back. 
10K-ers go all the way over to Mount Pleasant, near the entrance to Seaside Farms, then loop back to the IOP.  
You can register online on the official IOP Connector Run website.  The race also has a helpful Facebook page.  The race is organized by the City of Isle of Palms, the Town of Mount Pleasant, and both towns' Exchange Clubs.  
The post-race after party has evolved into quite a bash, with beer garden for those participants 21 and over (bring ID), food, live music and a special kids' entertainment area.
Important note:  the IOP Connector will be closed to vehicular traffic starting at 7:00 a.m. Saturday morning.  They will reopen the Connector around 10:30 a.m. when the last runners and walkers and all the course markings are cleared.  Between those times, you'll have to access/leave the Isle of Palms via Breach Inlet and Sullivan's Island.  Police are stationed at the main IOP stoplight intersection to let traffic cross toward Sullivan's during the race itself, around breaks in the runners.