(843) 724-7309
04/16/2022

to

11/26/2022

Get Directions

Shop local at one of the top farmers markets in America.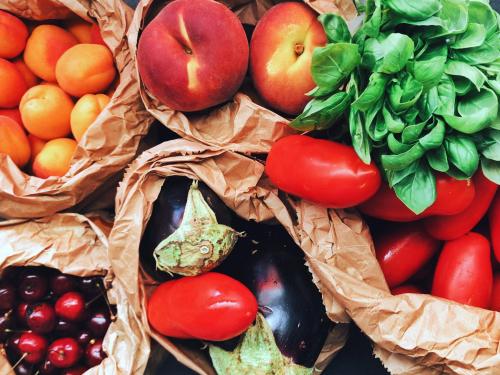 Produced by the City of Charleston Office of Cultural Affairs, the Charleston Farmers Market was ranked by Travel + Leisure Magazine as one of the top 10 Best Farmers Markets in the nation.  It's a great place to shop local, people watch and grab a quick bite while supporting Lowcountry farmers, growers, artisans and live performers.  
The CHS Farmers Market takes place every Saturday from 8:00AM to 2:00PM from March through November in downtown Charleston's Marion Square.   Additional markets are held on Sundays during the Piccolo Spoleto Festival in May and June, as well as Saturdays and Sundays in December for the festive Holiday Market. 
You'll be able to find plenty of local growers and farmers, vendors of packaged and prepared food, along with artisans and craft vendors and live entertainment.  Here's a helpful chart of what's in season, when.  
The 2022 edition of the Charleston Farmers Market kicked off on March 5th. 
PLEASE NOTE: Due to the threat of inclement weather, the October 1st market has been cancelled.
As for parking, you can find garages with plenty of shade at 399 King Street (right across the street), as well as 35 John Street and 73 Mary Street.  All are within easy walking distance of Marion Square.
Here's a list of the vendors at the inaugural 2022 market day.  Check the website for the latest vendor list.
Angela Hall Designs
Annie O' Love
Botany Bay Sea Salt
By His Design
Charleston Artisan Cheesehouse
Charleston Crepe Co.
Charleston Spice Co.
Christmas Touch of Nature
Dalai Sofia Ferments
Designs in Clay
Grit & Grace Studio
Holy Smoke
Hotflash
Jen Cruitt Designs
Joesph Fields Farm
Kate Rothra Fleming
Lauren Shuler Designs
Lloyd Mandel Woodturning
Lowcountry Lemonade
Market Mutts
Mike Nocher Photography
Mike's Chicken Salad
Notable Photos
O. Freeman Farm
Olinda Olives & Olive Oil
Palmetto Purse
Peachy Keen
Perla Anne Press
R & R Acres
Rainbow House
River Road Pottery
RD Naturals
Rio Bertolini Pasta
Roti Rolls
Simmons Farm
T & T's Kettle Korn II
Tami Boyce Design
Tiverton Farms
Urbane Baby & Kids