(843) 724-7309
03/04/2023

to

11/25/2023

Get Directions

Shop local at one of the top farmers markets in America.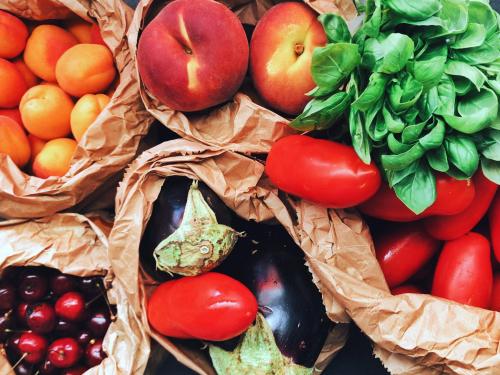 Produced by the City of Charleston Office of Cultural Affairs, the Charleston Farmers Market was ranked by Travel + Leisure Magazine as one of the top 10 Best Farmers Markets in the nation. Shop local, grab a quick bite while supporting Lowcountry farmers, growers, artisans and enjoy live performers! It's a great place to get a memorable gift during your stay at an Isle of Palms beach rental.
The CHS Farmers Market takes place every Saturday from 8:00AM to 2:00PM from March through November in downtown Charleston's Marion Square.   Additional markets are held on Sundays during the Piccolo Spoleto Festival in May and June, as well as Saturdays and Sundays in December for the festive Holiday Market. 
You'll be able to find plenty of local growers and farmers, vendors of packaged and prepared food, along with artisans and craft vendors and live entertainment.  Here's a helpful chart of what's in season, when.  
The 2023 edition of the Charleston Farmers Market will kick off on Saturday, March 4th, with a limited market.  The regular season with full market starts April 8th.  There will be no market on April 1st due to the Cooper River Bridge Run, which hosts its afterparty at Marion Square.
2023 Schedule
Limited Market (Farmers/Food): March 4 – 25, 2023
CLOSED: April 1, 2023 (Bridge Run)
Regular Season: April 8 – November 25, 2023
Holiday Market: Saturdays & Sundays, 9 AM – 3 PM (12/2-16)
As for parking, you can find garages with plenty of shade at 399 King Street (right across the street), as well as 35 John Street and 73 Mary Street.  All are within easy walking distance of Marion Square.