09/22/2023

to

10/01/2023

Folly Beach is turning 50, and they're celebrating, bigtime!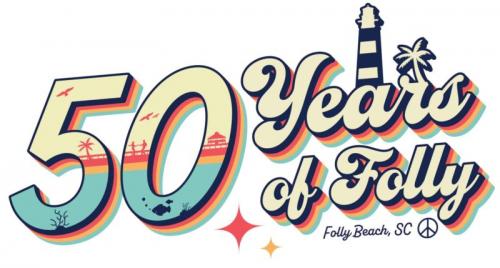 Half a century is a milestone birthday, and they're planning on stretching the party over ten days of fun.
Technically they're celebrating the anniversary of Folly Beach becoming a city.  They're doing it with a whole slate of great events for all ages, in venues across the island. 
Here's some of what's on tap:
Friday, 9/22: Folly's 50th Gala  -  Location: Ballroom at Tides Hotel... A 20s themed black-tie gala complete with a seated dinner, live DJ, dancing, and lots of nostalgic elegance.
Saturday, 9/23: Folly Through the Decades  -  Location: Center Street... A classic car show lining the streets of Folly.  Businesses on each block will represent the food, music, and culture of each one's designated decade.
Sunday, 9/24: Beach Day Games on Front Beach from Tides to 3rd Block West... A day full of team and individual games on the beach.
Tuesday, 9/26: FAB Community Celebration  -  Location: Regatta Inn... Folly business owners and workers join the Folly community to celebrate the magical place they call home.
Wednesday, 9/27: Kids Day Event at Folly River Park... A celebration specific for the kiddos featuring arts & crafts, games and Folly fun!
Thursday, 9/28: Shagging & Disco on the Folly Pier... The evening will start the way many evenings started on the pier back in the day … with some serious shagging. Then, bust out the bellbottoms and get ready to spend the rest of the night reliving the incredible age of disco
Friday, 9/29 – Sunday, 10/1: Classic Carnival Rides  -  Location: Several spots on Ashley & Arctic... The nostalgia will be there for sure, with a Ferris Wheel that will look out over the ocean!  More details to follow on additional rides and games. 
Saturday, 9/30: Folly's 50th Street Party on Center Street... The street will be closed to traffic as we gather to celebrate 50 Years of Folly with food, art, and craft vendors, live music on three stages, contests, a huge kids' area, and lots more.