(843) 884-2727
07/04/2023
Celebrate the Fourth of July in style with patriotic pyrotechnics!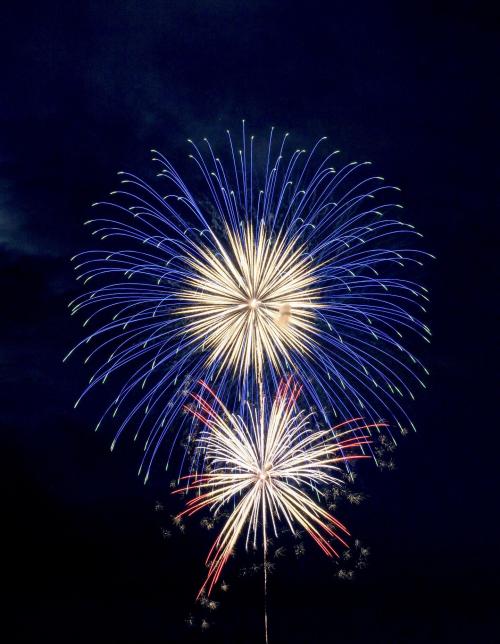 It's time for summer's big party, and there are plenty of ways to celebrate. 
The biggest fireworks display around is the 4th of July Fireworks Blast over Charleston Harbor.
The show is visible from pretty far away and from all around the harbor, both on the downtown Charleston and the Mount Pleasant/East Cooper sides.  You're wise to stake out your spot early, as it really draws the crowds.
4th of July Party at Patriots Point
One of the best places to watch it is at Patriots Point, right near the barge where they shoot off the fireworks.  They open up the flight deck of the U.S.S. Yorktown for special ticketed viewing.   In 2021 they also started creating a giant party zone on the shore.
The Patriots Point Naval & Maritime Museum will be open on the 4th as usual, opening at 9:00 a.m.  Parking will cost $20 for the entire day, and you can stay as long as you like.  They'll sell spots until the lot's full.  The Blast Party starts at 6:00 and lasts till 10:00, and there's no charge other than parking.
There will be plenty of great live music along with food options galore available for purchase from more than ten food trucks.  You're also allowed to bring coolers and set up a tent, as long as you take it down by 8:00 p.m. so it doesn't block anyone's view of the show.
The fireworks themselves will start about 9:00 or 9:15, as soon as it's completely dark.  Mount Pleasant Police are on hand afterward to help traffic flow smoothly as people head home.
4th of July Festival at Riverfront Park
Starting at 5:00 p.m., you're welcome to come to scenic Riverfront Park in North Charleston and watch fireworks from there at dark.  There's no charge, plus there will be live music (in 2022 it was by the North Charleston Pops! and DJ Natty Heavy), and a slew of food trucks on hand for goodies to eat and drink.  You're encouraged to bring blankets or chairs as n seating is provided.  
Fireworks on the Isle of Palms
Due to the pandemic, the City of Isle of Palms had to cancel their annual fireworks show on the 4th for the last couple of years.  Luckily they were back in full force in 2022.  Fireworks will begin after it gets dark, at about 9:00 p.m., in the Front Beach area, and last till about 9:30 p.m.  Note: the section of beach between 21st Avenue and the third Sea Cabins will close at 6:30 p.m. for set up/preparation for the show.
FYI: Please note that individual fireworks are illegal on the Isle of Palms (on the beaches or elsewhere), except by special event permit.